I came across this tag while reading someone's blog and thought it would be fun and a way for you all to get to know me a little better;)!! So let's get started!
HAIR:
-Shampoo- In(fus)ium 23 (moistur)ologie
STYLING PRODUCTS:
-Tre Semmes Heat Protectant, Herbal Essences Tousle me Mousse, Aussie Hair Insurance leave in conditioner(smells like coconut, yum!)
BODY:
-Body Wash: Caress Body Wash
-Body Moisturizer- I have quite a few LOL
-Anti-Perspirent- Secret
FACE:
-Make up Remover- Estee Lauder eye makeup remover, Neutrogena facial wipes (love these!)
-Cleanser- St. Ives Apricot Scrub
-Mask- Aspirin mask regimen
MAKEUP:
-Primer- Mac Oil Control Lotion (I have very oily skin so there's no point in using a primer when my face is just going to get oily anyway!)
-Foundation- Make up Forever Mat Velvet+ in shade 60 (HG status!)
-Concealer- Make up Forever Camoflauge Cream Palette No.1, Yves Saint Laurent Touche Eclate No. 1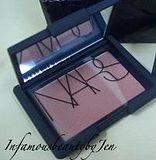 -Blush- Nars Lovejoy
-Bronzer- Nars Laguna
-Highlighter- Mac So Ceylon MSF
-Eyeshadow base- Urban Decay Primer Potion
-Eyeshadow- Mac Satin Taupe and Carbon in Crease
-Eyeliner- L'Oreal Lineur Intense Liquid Liner..Love!!
-Eyelash Curler- Mac
-Mascara- Clinique Doubling Mascara
-Lipstick- Yves Saint Laurent Rouge Volupte shade number 2
-Gloss- Nars Striptease
-Nails- OPI Caribbean
Now I tag all of YOU reading this tag! I'd love to read about your current favorite products!!
Have a great day dolls<333!!!!
DISCLAIMER: All of the products mentioned above were purchased by me, I am not affiliated with any cosmetics company and do not get paid on this blog, this is my honest opinion.