Release Date: May 27, 2010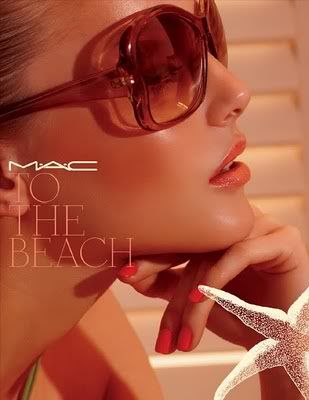 "There is fun in the sun, but to the beach is more of a sensual state of mind-a pleasure we all feel near the sea. The girl and boy from Ipanema, from Cap D'Antibes to West Palm Beach...All around the world, the seaside has a romance, and a kind of golden, sexy alchemy we're all drawn to. This collection encapsulates it, with a new, lapping-wave Lip-Pencil and High-Light Powder in coral shades, Nail Lacquer-A Scorcher!-Eye Shadow, Kohl, and Powder Blush to get away from it all effortlessly. Sandbags, seashells, the magic of marine line decorating packaging in the most soothing sultry shades of summertime. Close your eyes, and go To The Beach!"
I am very excited for this collection. I love Mac collections that have the Limited Edition Packaging. There are quite a few things on my wishlist from this collection especially the new liquid bronzers, I'm very curious about those. I just want everything, but I have to be realistic!! LOL
[images taken from www.maccosmetics.com]
What items are on your wish list from this collection??
Let me know in the comments!