NOTD: China Glaze For Audrey
China Glaze
For Audrey
is such a pretty color by China Glaze! I think it's perfect color for spring, named after Audrey Hepburn. It's a turquoise color with a hint of sea green to it. It's compared to the Tiffany's & Co. box. The color looks so beautiful but I wasn't too impressed with the formulation of it. It was kind of thick and hard to apply, I found it gloopy as well so it was kind of hard to get 2 coats on without it being streaky, but I managed to get it opaque.
Turquoise is my all time favorite color! I love the idea of green and blue together
I mainly got this polish because they were on sale at Sally's (previous haul post) buy 2 get 1 free. I also matched my tootsies as it was time to change that polish too!
What do you think of this nail polish? Yay or Nay??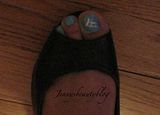 Hope everyone has a great day!! <333!!!
FTC Disclaimer: Product mentioned above was purchased by me and this is my honest opinion, I was not paid and am not affiliated with Sally's or China Glaze.