Hello my loves! Hope everyone's having a fabulous week! Over the past weekend I discovered I have an Ulta beauty store by me! I love this store as much I adore Sephora! They carry so many beauty brands I swear I could live in there! LOL I picked up some NYX eyeshadows, a lipstick in Pumpkin Pie (don't know why it's called pumpkin pie it doesn't look like a pumpkin pie color or smell like pumpkin pie IMO, still a pretty color), a Palladio green eyeliner(awesome pigmentation) and a Boujois eyeshadow, I wanted to swatch the NYX products in person rather than ordering online so this worked out really well. I also stopped by Sally's Beauty Supply where they were having a nail polish sale buy 2 get one free!
So far I'm really loving the NYX lipsticks and eyeshadows, I hope to purchase more in the future:)
What are some of your favorites from Ulta and Sally's?


Here's my lips wearing NYX Pumpkin Pie (Such a pretty nude color!!)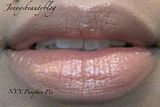 Till next time folks!