I saw this tag on
Cheryl's
blog (btw-one of my favorite bloggers! love her!!) and thought it would be a fun way for my followers to get to know more about me!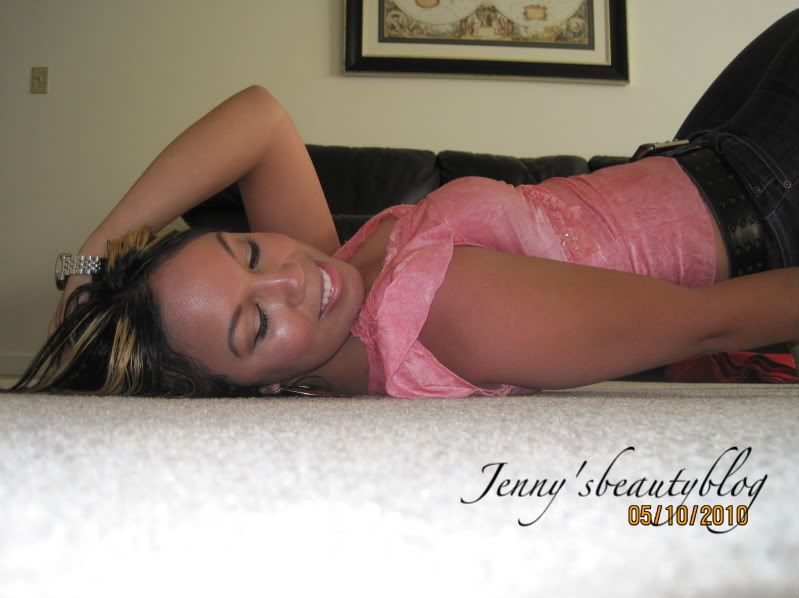 It's 40 questions so let's get started:
1. What time did you get up this morning? 7:10, I didn't get much sleep the night before so it was hard to get out of my nice warm bed bahhh, but I managed to get up.

2. How do you like your steak? Medium rare please
3. What was the last film you saw at the cinema? The Back up Plan starring Jennifer Lopez
4. What is your favorite TV show? House, Dancing with The Stars, Melrose Place, 90210, The Hills, Jersey Shore, that's just to name a few.
5. If you could live anywhere in the world where would it be? Florida or California
6. What did you have for breakfast? I usually have oatmeal and a banana, or cereal
7. What is your favorite cuisine? Spanish food, Thai, Mediterranean and Mexican
8. What foods do you dislike? Anything fish, mushrooms, chunky yogurt, and smoked meats.
9. Favorite place to eat? P.F Chang's
10. Favorite dressing? Italian, Chunky Blue Cheese
11. What kind of vehicle do you drive? A sexy 4 door sedan
12. What are your favorite clothes? Forever 21, Charlotte Russe, Abercrombie & Fitch, Hollister and Armani Exchange.
13. Where would you visit if you had the chance? All over Europe: Italy, France, Poland, Rome
14. Cup 1/2 empty or 1/2 full? Half full def!
15. Where would you want to retire? A warm island!
16. Favorite time of day? Warm sunny afternoons
17. Where were you born? Connecticut
18. What is your favorite sport to watch? Basketball and Football
19. Who are you most curious about their responses to this? No one will probably respond..lol
20. Bird Watcher? No..People watcher yes!! lol (don't judge me)
21. Are you a morning person or a night person? Night person..I love staying up late but dread waking up early.
22. Do you have any pets? No..I used to have a 2 year old yorkie, he strangled himself while my mom was dog watching. It's been over 2 years and my mom still feels guilty, I miss him like crazy still! I'm considering getting a new puppy soon.
23. Any new and exciting news you'd like to share? Not as of right now..
24. What did you want to be when you were little? A fire fighter, a doctor, one of the Spice Girls..haha!
25. What is your best childhood memory? Spending lots of time with my little sis, she's so busy with school and work I really miss those days but I appreciate the time we do spend together;/
26. Are you a cat or dog person? Dog all the way!
27. Are you married? Nope..I'm 25 years young and in no rush whatsoever..I do think about it from time to time, but it will happen when the time is right.
28. Always wear your seat belt? When I'm with my friends yes period..lol for the most part yes
29. Been in a car accident? Only 1 luckily..a scary one, I lost control of my car and ended up doing a 360 on the highway, thank God no cars were near me..I was one lucky girl that day!
30. Any pet peeves? Road rage, people that follow too close or shine their high beams in your eyes, ignorance, waiting on people, lack of communication, bad grammar, bad breathe and people who spell LiKe ThIs! grr!!
31. Favorite pizza toppings? I'm a plain Jane on pizza, I'm happy with just cheese
32. Favorite Flower? Lily's and tulips
33. Favorite Ice cream? Party cake
34. Favorite fast food restaurant? Arby's
35. How many times did you fail your drivers test? None. I didn't do so well on the parallel parking but still passed.
36. From whom did you get your last email? Sephora-one of those VIB email deal thingies
37. Which store would you choose to max out your credit card? Nordies, they have awesome clothes, shoes, Coach hand bags, and they have a Mac, BAM!!
38. Do anything spontaneous lately? No..:( boring I know!
39. Like your job? Yes
40. Brocolli? Love it cooked..raw=dragon breathe..lol
Any questions let me know in the comments!!
xoxo,